2 to 6 inch drilling capacity
The DeHoff BTA/STS line of drilling machines offer larger drilling capacities for large diameter hole applications, such as those typically seen in the aerospace and petrochemical industries. Four different models are offered with 2 to 6 inches (50.8 to 152.4 mm) of drill capacity available.
Because of the large workpieces typically involved, many different fixturing options can be designed and built to suit your application.
Each DeHoff BTA/STS machine also includes our robust coolant system and a Microsoft Windows®-based controls package.
Watch:
The DeHoff Advantage:
BTA/STS 20 Specifications
Drill Capacity
2 in (50.8mm)
Slide Travel
36 in (914 mm) or
60 in (1524 mm) or
84 in (2134 mm) or
120 in (3048 mm)
No. of Spindles
1
Spindle Power
20 hp (14.9 kW)
Spindle RPM
92 – 4,875
Feed Rate
0.1 – 30 in/min (2.5 – 762 mm/min)
Coolant Flow
60 gpm (227 L/min)
Coolant Pressure
500 psi (34.5 bar)
BTA/STS 30 Specifications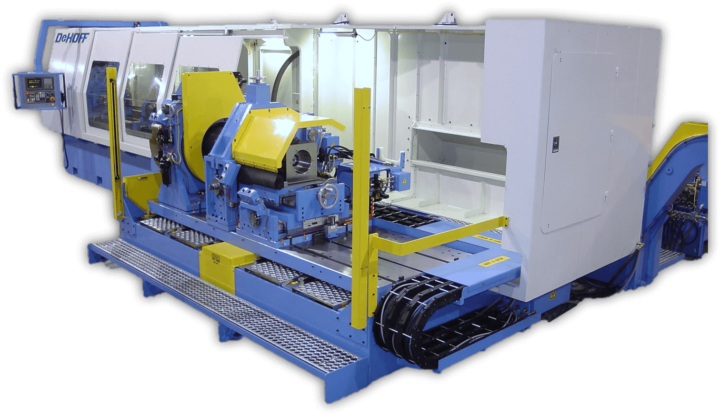 | | |
| --- | --- |
| Drill Capacity | 3 in (76.2mm) |
| Slide Travel | 120 in (3048 mm) |
| No. of Spindles | 1 |
| Spindle Power | 40 hp (29.8 kW) |
| Spindle RPM | 60 – 2,190 |
| Feed Rate | 0.1 – 30 in/min (2.5 – 762 mm/min) |
| Coolant Flow | 120 gpm (454 L/min) |
| Coolant Pressure | 500 psi (34.5 bar) |
BTA/STS 40 Specifications
| | |
| --- | --- |
| Drill Capacity | 4 in (102mm) |
| Slide Travel | 60 in (1524 mm) |
| No. of Spindles | 1 |
| Spindle Power | 50 hp (37.3 kW) |
| Spindle RPM | 60 – 2,190 |
| Feed Rate | 0.1 – 30 in/min (2.5 – 762 mm/min) |
| Coolant Flow | 150 gpm (568 L/min) |
| Coolant Pressure | 500 psi (34.5 bar) |
BTA/STS 60 Specifications
| | |
| --- | --- |
| Drill Capacity | 6 in (152mm) |
| Slide Travel | 60 in (1524 mm) |
| No. of Spindles | 1 |
| Spindle Power | 100 hp (74.6 kW) |
| Spindle RPM | 60 – 2,190 |
| Feed Rate | 0.1 – 30 in/min (2.5 – 762 mm/min) |
| Coolant Flow | 150 gpm (568 L/min) |
| Coolant Pressure | 500 psi (34.5 bar) |